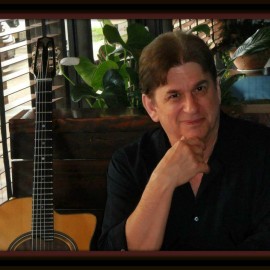 It's been a long musical journey that led guitarist, singer/songwriter and bandleader Tony Airoldi to the release of his first solo album, 2015's Where the Light Gets In. And it starts, as he says "at the beginning-ish."
That would be the mid-50s, when Airoldi, growing up in Dallas, got turned on his sister's 45s. "Bo Diddly, Little Richard, guys like that," he says. His first guitar followed shortly, just in time for his 11th birthday. A little later, Airoldi got swept up in the folk revival, learning the banjo and the Pete Seeger songbook while sneaking into shows to hear bluesman Lightnin' Hopkins, and others. Like many Texas musicians, Airoldi was being molded by the array of musical styles that happen to criss-cross in the Lone Star State.
In 1970, Airoldi moved to Austin, a city that was to Texas what San Francisco was to California, a musical mecca. Airoldi fell in with Balcones Fault, a wild show band whose elaborate productions and anarchic sense of humor made them favorites at Austin venues like the Armadillo World Headquarters.  He also logged time with another beloved Austin musical institution, Greezy Wheels.
Cut to the year 2000. "I had always loved Django Reinhardt – what guitar player doesn't – but it never occurred to me that I could play his music. I started getting to get together with my friend Larry Pollack and we would spend afternoons drinking wine and playing his songs just for fun.  We decided to call the group Django's Moustache. In 2006, we released a CD, which I love to this day, called South Austin Gypsy Jazz. I still learn Django solos just for fun."
But, he said, "Two years ago (in 2013) I decided it was time to go back to being a singer/songwriter and playing my Strat. I missed the blues. I've probably written several hundred songs and I missed performing them."
"So," Airoldi continues, "I've made this new CD which I call Where The Light Gets In. It's dark in places but that's how you know where the light is, right? When I make a record I try to produce a living, breathing thing, something you can put on the stereo, hang out with and go about your business. If I do have fourth act in this life this would be it."